I can't believe we are coming up on 4 months of being married – it seems like forever ago!
When it came to doing up our thank you notes, we went to the store to buy a huge bundle of some of those ready-made thank you cards in which we would stick a nice little wallet-size photo of us. And then we thought…..thats so normal. It would seemingly be very uncharacteristic of us to do something that "normal", so we did something we thought was a little more unique. I made up a our own little monogram and printed it off on white note cards and then designed a two-sided color 4×6 postcard as a insert, showcasing wedding pics on the one side and honeymoon pics on the other. It was an experiment that worked out, and we were very pleased with the results!


I have a serious font fetish, and am always looking for new font freebies on the internet ;o) I've committed so many font names to memory, that it isn't terribly uncommon for me to be able to name the ones that I see on billboards, t-shirts, magazines, greeting cards….you get the picture.

)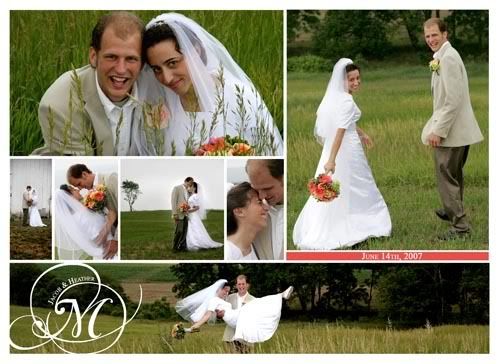 The beautiful wedding photos are courtesy of Kathy Martin Photography (http://www.kathymartinphotography.com) and my dear friends from Country Lane Photography.

Our honeymoon was so incredible – racking up nearly 7,000 miles on the truck! Before our road trip I had seen more of the rest of the world than I had of the U.S. I'm very anxious to get the gazillions of photos from the trip organized and edited!