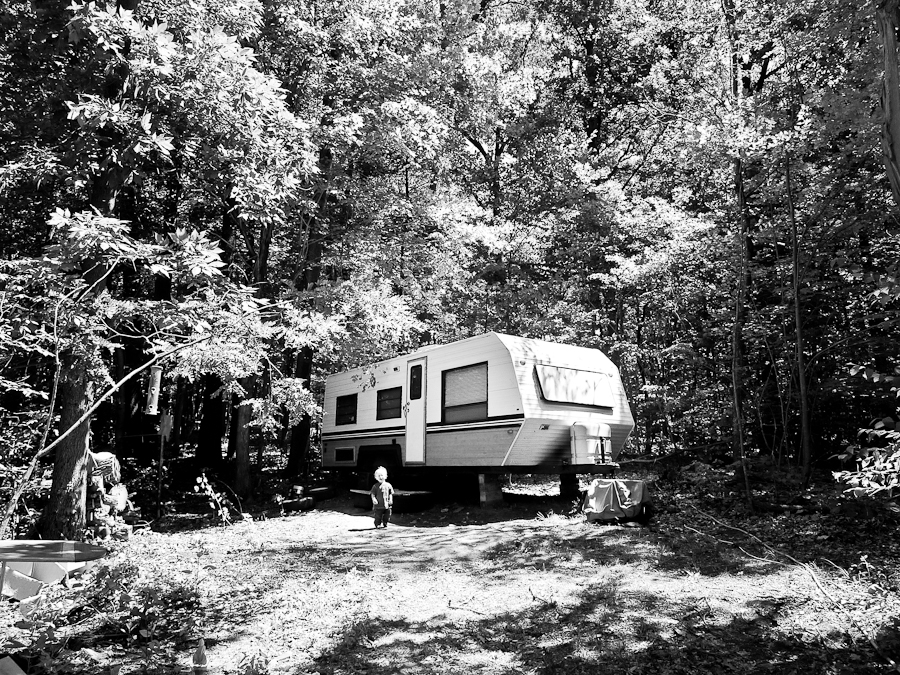 Okay, you have all been asking for pictures of our grand adventures lately, so here's a few of our current one: living in a 22ft '83 camper trailer. ;o)
I can see your raised eyebrow. I will address your questions as they occur to you, most likely in this order:
———–
WHY??? Well, we have been traveling most of this year and realized it was kinda silly to be paying rent for a house that we are never in. And we've been feeling like the Lord has been moving us in the direction of becoming more mobile and cutting our expenses as much as possible so that way we are able to pick up and go wherever He needs us. Plus we are going to Israel for several months this fall. It's been a big step in faith for us, but one that we haven't regretted so far!
HOW LONG??? Well, we've been living in it periodically most of this year, full-time since the end of May. And, we are waiting until we come back from Israel in November to decide our next steps!
AREN'T YOU GOIN NUTS??? Not yet. ;o) It really hasn't been bad at all. It has been a bit freeing actually, since I'm kind of domestically challenged anyway. Haha. And it is really been a great experience to actually practice out more of a 'fasted' lifestyle. It's amazing what you can do without! Since both my husband and I are both self-employed, it definitely has it's challenges in running 2 businesses, but we are still working out all those bugs!
WHERE ARE YOU STORING YOUR STUFF??? Well, we got rid of a TON of stuff (got rid of more clothes than I kept), and whatever we had left is getting stored in rubbermaid bins in a small storage shed on my parent's property. Our big furniture like our couches and our gorgeous cherry bed that Jacob hand-made are being lovingly used by his family.
WHERE DO YOU PARK??? Well, while we are in Pennsylvania, we are parked in the woods back in the corner of my parents property. We have water and electric (not enough to run the ac *sweat*, but still it counts!). Asher has been loving his free reign of the outdoors since we adopted this lifestyle! He thinks a day isn't complete without rambling through berry patches and stuffing his face full! And when we travel we have stayed on various friends properties (networking is the bomb!) and campgrounds.
————–
So, our little home is a work in progress. When we bought it, it was ugly. With a dirty brownish exterior and brick red stripes it was  seriously, hideously, carnies-of-the-early-80s type of ugly. But we made quick work of that, painting the exterior a bright white with a turquoise bottom and encircling black stripes.
The inside also underwent some quick changes. The very dated powder blue and apricot curtains and wallpaper were replaced with some fresh turquoise and lime paint and some cherry lime green curtains (table runners from my wedding!). We also wanted to paint all the cupboards white, but that might have to be something we let slide for now.
So the grand tour: You walk in to the "LIVING AREA"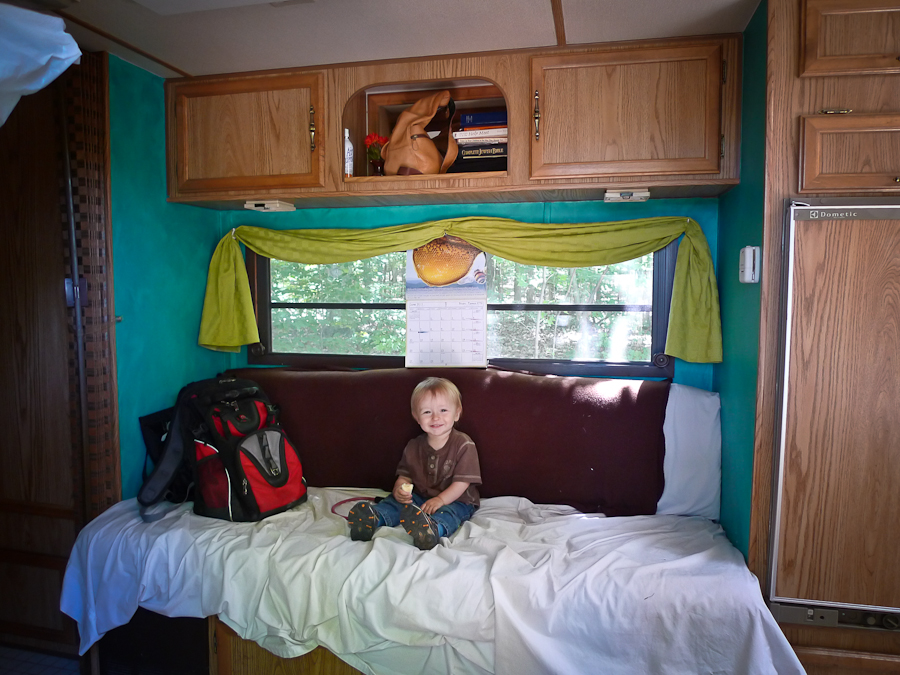 15 month old Asher loves life in the camper!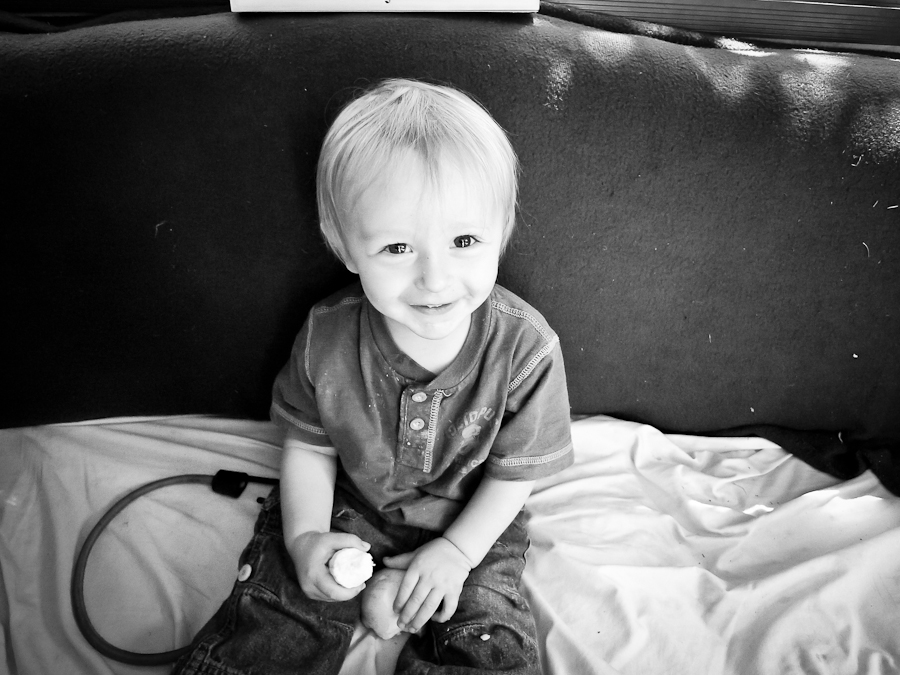 A quick right will throw you into the kitchen/office…..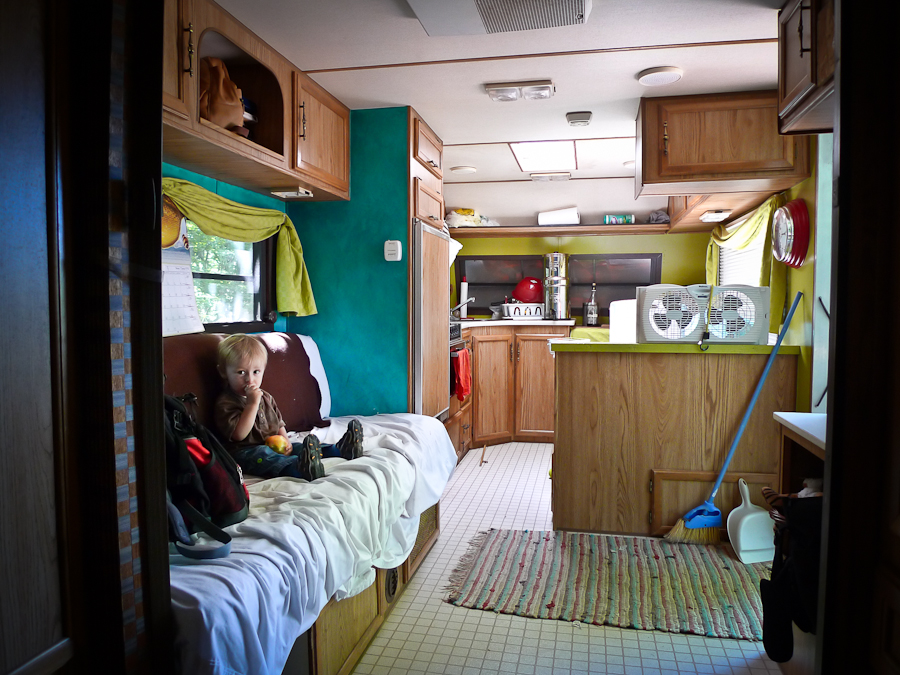 Jacob and I have our business meetings toe-to-toe here at the kitchen table/conference room. We are very productive in tight quarters. ;o) (and you can even see me making my raw milk yogurt in the crockpot)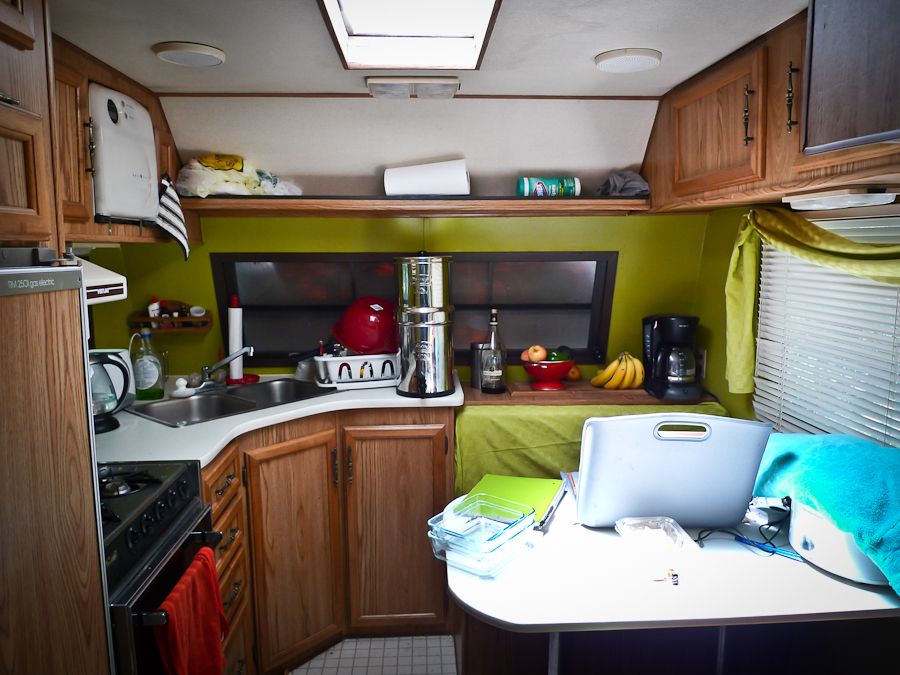 I think it's brilliant that while working I have the coffee pot to my left, the water to the right, and the wine directly behind me. All vital substances are within reach!!! ;o)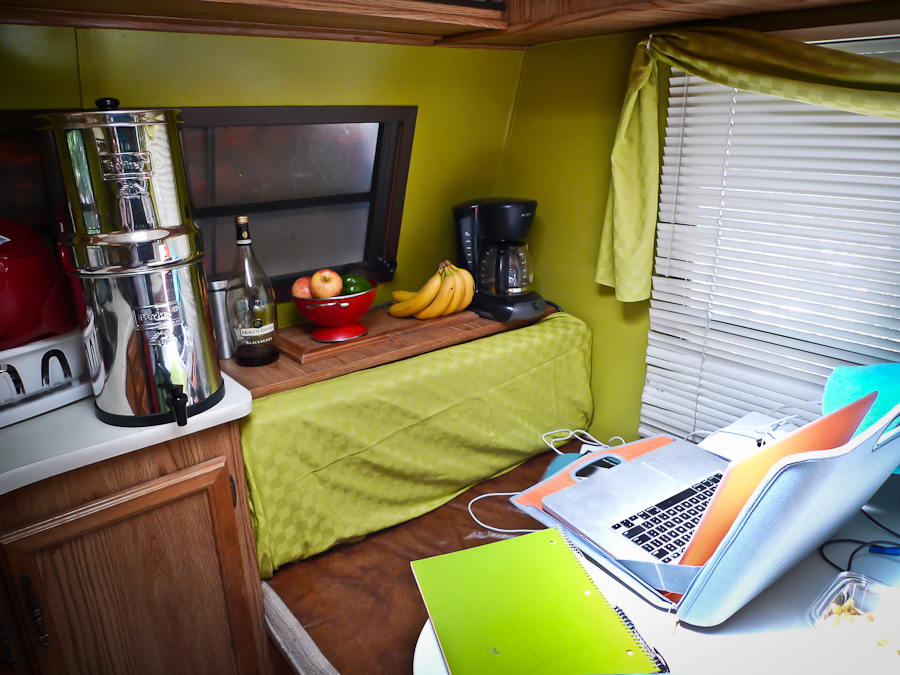 And then if you do an about-face, you see our cozy sleeping quarters.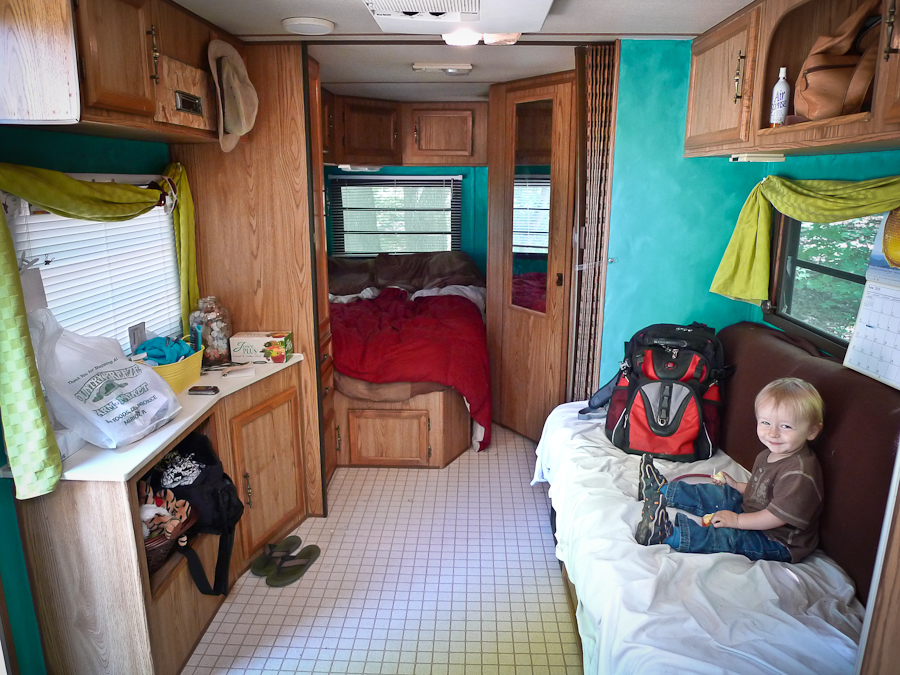 We aren't the only ones with cozy sleeping quarters. Behind the door to the right is the 'bathroom'. Or, as we refer to it, the 'Nursery'. The shower is a perfect fit for Asher's bed! And equipped with its own white-noise fan, Asher can nap ANYWHERE. Literally. ;o)
And the picture to the right below shows how you have to get creative with what you do with your printers and such!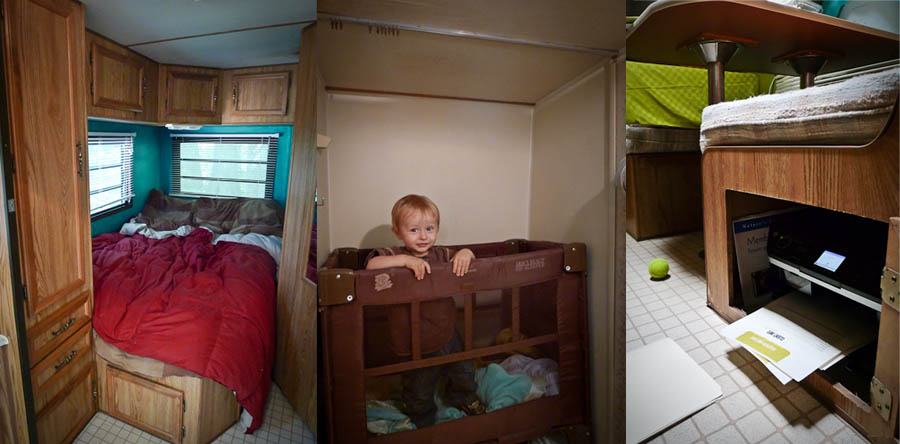 So far, life has been grand in our little home. We feel blessed. Seriously, how many other young families own their own home free and clear at 25? ;o)
Hehe, life can be such a grand adventure – why do it like everyone else???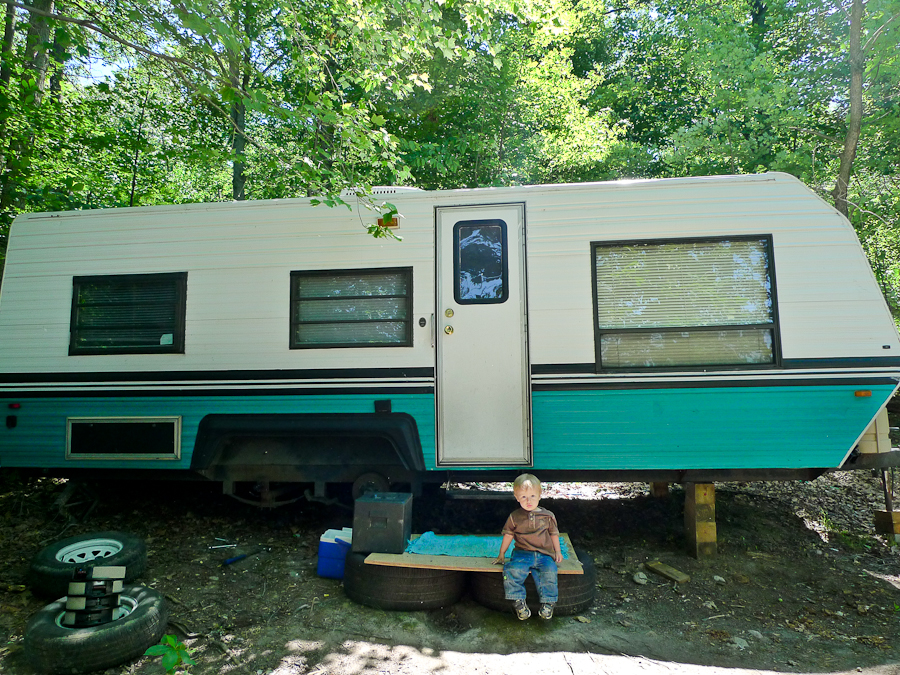 *** note*** my husband says the front stoop pictured above isn't redneck because they are 20″ tires. Like I said, camper chic. ;o)