Where Modesty meets Creativity in my Suitcase.
Sooooooo, I've been lovingly bugged but quite a few people to start this ball a rolling. Whether in person or in emails, I've been requested to feature some of my 'Artsy Attire' for the world to be 'inspired' by, haha. So I've finally relinquished!
How to perpetually live out of suitcase is a bit challenging, but I still feel it can be done creatively. And inexpensively. And MODESTLY.
So the background on me is I strive to live a modest lifestyle. I know there a million ways to define 'modest' and everyone has their own tweak on it and their own convictions. But here on the blog I'm going to try and portray weekly how I walk this out in the manner of my DRESS. And you'll find out I'm also a passionate advocate for gorgeous and creative HEADCOVERINGS.
I know some think I'm little loopy sometimes, and wonder why I don't want to attempt to look like 'everyone else'. But I figure our Creator is an obvious lover of color and expression and details or He would have never created rainbows or fiery sunsets, dewy spider webs or poppy fields. Or me.
For me, I do not forge ahead to find the "ONE TRUE WAY" to dress and live modestly, but strive to continually find the balance between the extremes.
Where HUMILITY meets EXUBERANT EXPRESSION.
Where a QUIET SPIRIT meets CREATIVITY and COLOR.
Where a SUBMISSIVE HEART meets INTENSE HUES of LAUGHTER and JOY.
Where a GRACEFUL COUNTENANCE meets ARTFUL VISION.
This is where I want to be.
So I tried to summarize my vision for these posts as follows:
Artistry doesn't have to be rebellion from the norm, it can be a respectful reach towards communicating original character rooted in a willingness to serve and enrich.
So here is the FIRST installment (with lots more to come as I've been shooting my outfits on my daily runs to the park with the boys)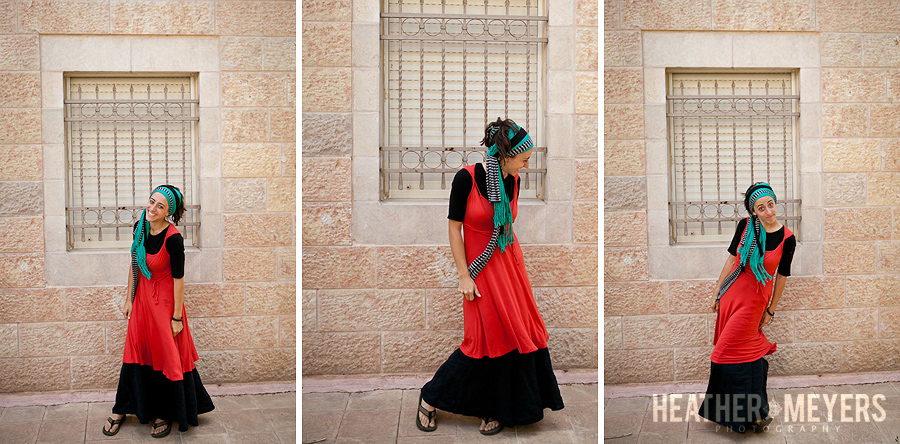 Coral Dress: 10 shekel ($3) find at the Jerusalem Thrift store
Black Tee: a well worn $3 Cotton Mossimo Tee from Target, 4 years ago
Black Skirt: fav linen Gap skirt 10 years ago
Scarves: Striped/$2 Walmart well-worn fav, Teal/$8 Target splurge, Black/fabric scrap
Flipflops: Men's discount bin $.99 Gap 10 years ago